Fashion and glamour
for your stay in Milan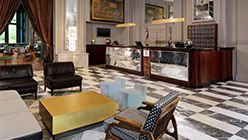 Our glamorous hotel
Sheraton Diana Majestic represents today the reference point for art, culture and fashion in Milan, able to offer the great charm of a long history, the most modern technologies, the absolute comfort and the glamour of the lively and crisp atmospheres. Located in central Milan, Hotel Sheraton Diana Majestic
is the perfect choice for those who want to experience the authentic atmosphere of the city. Immerse yourself in the glamour of high fashion on nearby via Montenapoleone or soak in the classic atmosphere of the world-famous La Scala Opera House (Teatro alla Scala).
h>club diana
Sheraton Diana Majestic is a hotel of great tradition, just a few steps away from the shopping district and the fervent Milan lifestyle. Our historical Liberty building, with a spacious enchanting private garden, combines traditional architecture
with the state-of-the-art technology and a young, hip and fashionable atmosphere. Indeed, the most celebrated of the Milanese aperitif takes place at the renowned h>club diana, which truly represents the place to be in town.
Our scented garden
If you dream of waking up in a lush scented garden, be sure to select one of the many guest rooms which boast a charming private terrace or balcony overlooking the garden. Our hotel offers four different function rooms for meeting and event planners.
All are equipped with high technology and are ideal for events, cocktail parties, fashion presentations, photo shoots, and meetings. Furthermore, charming outdoor function spaces are available in spring and summer.